Tech Tips
FREEBIES!
The Best FREE Software and Computing Tipsfree
Ten Ways to Secure Your Computer
Before we get into the free software we want to offer some of the best advice we can give: Preventing hackers from stealing your personal data. So, if you don`t have a full-time computer support staff or a company like Plexus IT taking care of your computer infrastructure, click here for 10 basic things you can do on your own to keep your office network running smoothly and securely.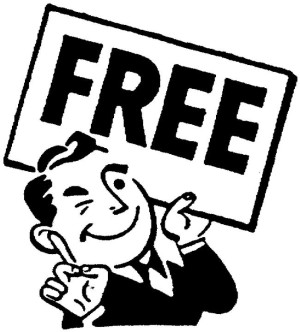 Maintenance Software
As we install and uninstall software our computers get gunked up with extraneous files and registry information that slows them down and causes problems with other software that we actually use. If your computer is a year or two old, it`s time to do some housekeeping.
Best Registry Cleaner – Wise Registry Cleaner Grab this to clean out your registry, but be sure to opt out of the Ask toolbar and companion disk-cleaning utility unless you understand what they are and really need them. We also like CCleaner I have found this one especially helpful when a previously working application suddenly stops working. Uninstall the program you are having trouble with. Run CCleaner and be sure to follow the step recommending backing up the registry! Once done, re-install the program you were having trouble with. Pat self on back.
Best Uninstaller – Revo Uninstaller Despite our attempts to remove programs via its built-in uninstall utility or through Window`s Add/Remove Programs, we just can`t seem to completely liberate ourselves of the offending application. Enter Revo Uninstaller which will pick up where failed uninstalls leave off and remove files typically left behind in the registry and elsewhere. I have not had a 100% success rate with this one, but it sure has helped me out more often than not.
Best Erase Utility – Eraser You don`t think deleting files actually deletes them from the hard drive, do you? Of course not. To truly protect your privacy and clean unwanted files the space it occupies on the hard drive must be overwritten several times with new data. Once installed, you`ll see a new menu item, eraser, when you right-click a file or folder. Selecting it will delete the file then overwrite the space it occupied on the hard drive with nonsense data. If you`re selling or giving away an old PC, eraser is a great way to remove any personal data you don`t want to share with the new owner.
Clean It! – Computers run best when they are nice and cool and the chassis (the box with all the wires coming out of it) containing your computer's innards is designed with fans that typicaly draw air in through the front and/or sides and out through the back. Take a close look at the chassi and you'll see a grill or other opening. If it is clogged with dust, it needs to be cleaned. Turn the computer off, unplug the power and vacuum it front and back. If you are ambitious, open the chassis and blow it out with pressurized canned air. I recommend doing this outside and NOT sticking a vacuum inside the computer – you might fry the motherboard. Of course, before you do anything, back up all of your dat to external media!
Production Software
As robust and feature packed as productivity packages like Microsoft Office are, there are great free alternatives that will more than satisfy the needs of the average user.
Best PDF Writer – PDFill – MS Word now includes a built-in function to "publish" word docs as PDFs. However, when you want to merge multiple PDFs into one file, or split pages from a PDF into multiple files we recommend PDFill. This is a feature packed application providing much of the same functionality as Adobe`s Acrobat Standard which lists for $139. We also like PDFCreator for it's free and does just what it says.
Best Office Suite – OpenOffice – Last year we saved a client about $12,000 it would have cost to install MS Office on his office PCs by installing OpenOffice instead. This open source suite includes Word, Excel, Access, PowerPoint and Paint equivalents. The only thing it lacks is an email client like Outlook but for that we recommend Mozilla`s Thunderbird.
Best Email Client – Thunderbird – For a robust alternative to Outlook or MS Mail is Mozilla`s Thunderbird. The same people who brought you the Firefox web browser have done a pretty good job with email as well and it can be easily configured once you know the POP or IMAP and SMTP settings of your email provider.